Jostle & Bonusly
Micro-bonusing
The Bonusly integration makes it easy for everyone to give micro-bonuses in the Jostle platform. Employees can simply add a bonus to their Shout-Out to reward a fellow colleague for their good work or kind deeds. It's an easy way to instantly highlight and positively reinforce great work which may have otherwise been missed. This helps to grow a culture of appreciation, kindness, and teamwork.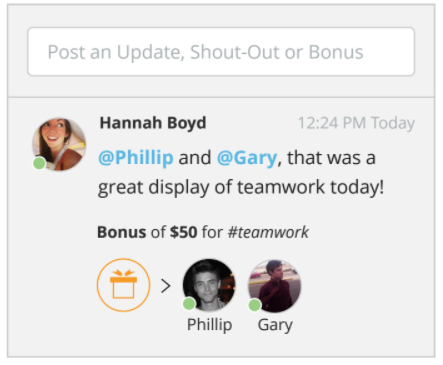 How does it work?
Monthly allowance
Users give out this allowance to their colleagues. Each employee's allowance refreshes at the beginning of each month.
Bonus earnings
Bonus earnings can be spent on anything from your company's global reward catalogue.
Rewards
With a global catalog of the world's most popular brands instantly available, Bonusly's built-in reward catalog makes rewarding employees as simple as it is impactful. You can also add your very own custom rewards such as t-shirts or days off.